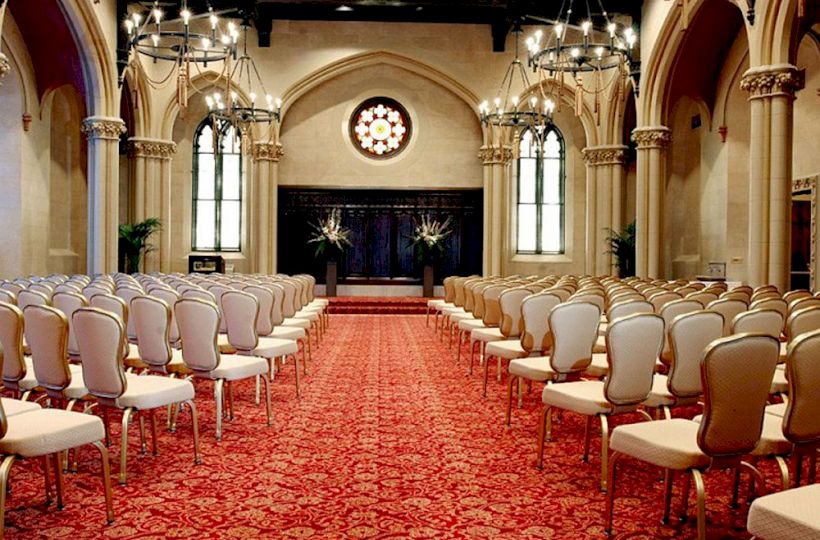 Rich Tradition & Elegant History
A TIMELESS LUXURY
With a storied history, The Grand is one of the most distinct, sophisticated, and unique event venues in Baltimore. The original building that The Grand now calls home was first built in 1866 and was the headquarters for the Maryland Freemasons for over 130 years.
Extraordinary Events
DAZZLING DÉCOR & UNMATCHED SERVICE
Upscale and opulent, The Grand offers 45,000 square feet of magnificent event space across 19 distinct rooms. From the majestic Marble Ballroom, the exotic Rose Room, and the Edinburgh Hall & Inner Chapel, each room has its own unique atmosphere. Perfect for corporate celebrations, social events, Christmas & holiday parties, reunions, receptions, or any event that requires a bit of class and sophistication.
Wedding Bliss Begins
HAPPILY EVER AFTER STARTS HERE
One of the most important days of your life calls for a grand venue that is truly one-of-a-kind. Whether you are throwing an extravagant affair with a hundred guests, to more intimate Baltimore weddings or an authentic cultural wedding, The Grand has done it all. From multi-course Asian weddings to vibrant and energetic Indian weddings, to traditional Jewish weddings, our expert team of professionals will take care of every detail.
Holiday Parties
CELEBRATE THE SEASON IN STYLE
Holiday parties require a venue that exudes opulence and elegance and where simple moments become timeless memories. A historical gem that is the epitome of class and sophistication, The Grand Baltimore provides a world-class backdrop sure to capture the magic of the holiday season.
Dedicated to World-Class Service

From catering, to decorations, to reserving room blocks, our expert event planning staff will take care of every detail.
Happy Holidays
Book your 2023 Holiday Celebration at The Grand Baltimore by the 29th of September and receive a choice of one of the following complimentary upgrades.